Organic Tea Bags, The Organic Tea project came from the simple understanding during the last Bike Ride that Australians like 'flavoured tea' (For Indians tea is made with water and no milk, with way to much sugar!). We are always in need of  'occupations' for seniors who are in between making decisions in life. Just because you have completed 5 years of high school and it included a 'trade' – employment is not automatic. It's the same the world over. There are no unemployment payments or financial support in India from the government.
Organic Tea Bags, One young man Nani studying Food Technology at a Government recognized College gave his weekend time to blend teas and spices. We now have a 'production group! – Very organized, very attentive to absolute hygiene and in making the 24 tea bags/ 6 flavors and packageing. We are now having 'repeat orders. Sending 6 to 8 cartons to pack. The feedback has been interesting. Some people say it's not strong enough.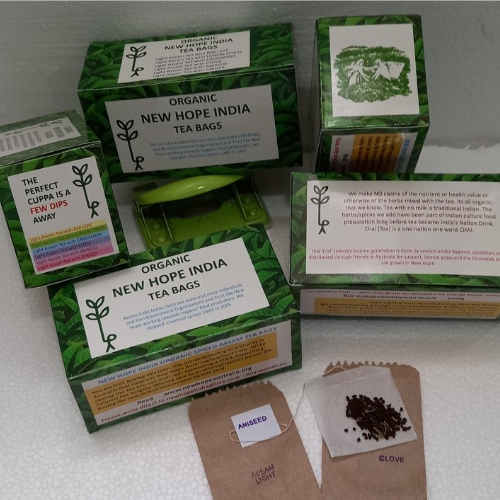 Organic Tea Bags - Purchase
This product is grown and packed by the New Hope Trust girls in India. 3 cartons of Organic tea bags, 24 tea bags in each carton, 72 tea bags in total will be posted to you in our hand crafted packaging. Across India today there are more and more organisations like New Hope Rural Leprosy Trust working towards 'organic' food production. We stopped chemical sprays 100% in 2005. We make NO claims of the nutrient or health value or otherwise of the herbs mixed with the tea It's all organic, that we know. Tea with no milk is traditional Indian. The herbs/spices we add have been part of Indian culture food preparation long before tea became India's National Drink. THIS IS A PHYSICAL PRODUCT AND INCLUDES POSTAGE PAID AND MAILED TO AUSTRALIA, UNITED KINGDOM AND JAPAN ONLY.
Available Qty: 100
YEN 2,291.77
That's a bit of a juggle! To taste the spice (cardamom, cove, aniseed, lemon grass) the tea blend has to be light. Our answer is to have a stronger tea with the Bay Leaf. So the Bay Leaf tea is more for is nutrient than flavour.
We will move on to people who ring by phone and ask for example 1 Carton with 12 tea bags of clove and 12 BayLeaf (stronger tea). The profit is not great. However it creates a show of us being more self sufficient. It also acts as a PR – talking point of New Hope Rural Leprosy Trust India and the need to support. mainly through child sponsorship for care and or education.