About New Hope Rural Leprosy Trust, we are a small Non Government Organisation in India called New Hope Rural Leprosy Trust – Voluntary Organisation that works to eradicate Leprosy in Western Orissa, India and offers custodial care to aged Leprosy victims in both in Orissa and in Andhra Pradesh State in India.
New – Approaches, new ideas, new concepts, new ways of seeing problems and solutions. NEW ways to bring about change. NEW approaches to changing attitudes that are so often tilted against the disadvantaged, the poor, women and children.
Hope – that with hard work, determination, to see the poor – our friends and neighbors attain a better quality of life. HOPE that given the opportunity to change, the poor will know equality.
Rural – people are the most disadvantaged; rural women are at the bottom of the scale. Simply talking and telling them to preserve the ecology is a waste of time. They need to see how it can be of immediate and long term benefit to them. Only when the rural poor become more self-sufficient will the migration to Mega Cities decrease.
Leprosy – Humankind's oldest stigma. We aim to change this attitude, to prevent people from being rejected because of this now medically curable disease.
Trust – A non government organization (voluntary organization) registered with the Government of India since 1985, working with, and for, the poor and disadvantaged towards change – through women and children first.
About New Hope India; The work covers all aspects of development – from planting trees in rural hill tribal areas, to offering vocational training to "Street" children in Visakhapatnam and Vizianagaram cities in Andhra Pradesh State in India. Free eye surgery for the Cataract blind, and corrective surgery for polio crippled children. Women and children are immunized and women are given with free safety Delivery Kits.
"Why so many activities?" you may can ask?
About New Hope India
Because there is no single answer to change poverty. To change the quality of life of the poor means tackling the whole development problem not just a single issue. The Director says "I feel strongly about the whole relationship of working side by side with a solid team from a developed country" His favourite words are from Chilean Poet, Gabriela Mistral, below are some of Eliazar's favourite sayings: Many of the things we need can wait, the Child cannot. Right now is the time their bones are being formed, their blood is being made and his sense are being developed To them we cannot answer 'Tomorrow' their name is 'Today'
New Hope Rural Leprosy Trust; Eliazar and Ruth come from very humble backgrounds. Both their parents suffered from Leprosy and have experienced the horror of being ostracized. Those with Leprosy were forced to live in colonies, which in the 1950's was horrendous and without real anti Leprosy drugs. Eliazar was painfully aware of the shame and rejection suffered by his parents and from an early age he resolved to fight both the disease and its stigma.
While still a teenager he trained as a Boilermaker at the Institute of Indian Technology but never took up the trade, preferring to work in a Leprosy colony gaining wide experience in medical and laboratory techniques and gaining registration as a Medical Practitioner in the field of Leprosy. In 1985, he and three like minded young Indians founded the New Hope Rural Leprosy Trust to fight Leprosy, poverty, literacy and many other challenges facing the poorest state of Orissa in India. Eliazar chose to base New Hope Trust in the state of Orissa in a Tribal area known as the Koraput District in Orissa, India.
The theme that runs through all of our work is: Working for Change.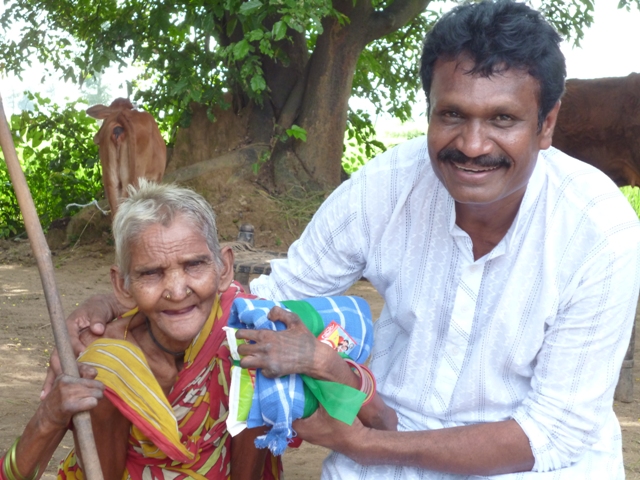 About New Hope India