New Hope Report 2012 was a difficult year, In Kothavalasa where we support of 10 children with HIV we saw sadness in the death of three child and at the same time great improvement in the health of other HIV children on anti-retro-viral drugs. New Hope Report 2012, The death sadness is part of the reality of caring for terminally ill. The joy, the happiness in a strange way, is that we have been able to give them care, a quality of life that would not have been possible without sponsorship. These were all orphan children. One, a senior girl who came from a railways station platform , 5 years ago – means a lot to us because she would never of had these 5 years of being cared for, being part of a community, enjoying days of good health.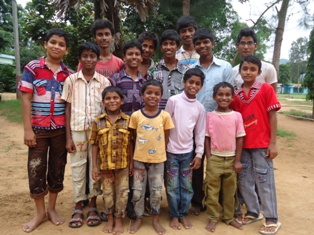 In Muniguda we had the sadness of one of our blind boys death due to malaria. He had decided he would go home for 3 months to be part of a long village festival where his family lived and his sister was to be married. He was to play the drums for her wedding. Everything went well until after the marriage. He had gone home with a first aid kit including anti-malaria tablets – and we think in the excitement of everything, forgot to take them. It was a sad month after this news for the Namaste House children. They are a very close 'family' of children.
We live in the real world and in India it is there all of the time – That's what New Hope always been together for – helping children in need, caring for children who need support. It is the one to one development of the children that makes the sadness less.
New Hope Report 2012; There were many senior staff at the meeting. Women who are now married and with children who had started at New Hope when they were girls. He thanked all of the Paramedics who had been in the first team of people to go from village to village giving Polio vaccinations – in those days by injection. He gave our Trust an Award Certificate for being 'a pioneering charity who with its own efforts and funds had immunised more than 13,400 over 5 years 2000 to 2005. The Rayagada District RED CROSS , of which he is President presented us with a Certificate and cheque for Rs10,000 as 'gratitude for the care of Polio disabled and for the many children who received corrective surgery through the hospital' – It is not the amount of money but the recognition of what services we were able to provide and so much of this came through Child Sponsorship.
New Hope Report 2012; Inflation went up and down throughout the year and causes our budget 'hiccups' every quarter. We 'New Hope' know just how very difficult it is to raise funds in the last few years. We know and appreciate this. In India we are also taking responsibility to raise funds for the children. In 2010 we have increased the school teacher's salary and added more qualified teachers. We were 'saved' again from some of the inflation in Namaste House because of the land we have been given through by other organisation. –
This help has truly made it possible for us to give the needed high nutritional food to the children. We had sufficient rice this year that we could again in 2012 send legume to Kothavalasa. More than 98 days of legume was supplied from the Muniguda land to Kothavalasa. All the medical charges for the HIV children are paid for by New Hope all the tiume. This is because we have three children on second line drugs that are very expensive.
This is what we wrote last year – "The Kothavalasa programme is consolidated. It is truly what we call a 'melting pot' – children from all backgrounds. It is like a fairy tale story. There are children who came to our programme years ago, not knowing their names and really 'wild' children. Now they are almost grown up and studying well. Many have ages older than their class, because until they came to us they had no schooling."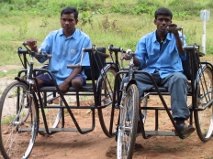 New Hope Report 2012